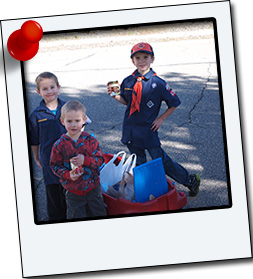 Position:
Adult Volunteer
I Got Involved in Scouting Because:
My brother and grandfather are both Eagle Scouts, so I knew from the day my son was born we would be involved in the BSA program.
Scouting Prepared Me For Life By:
Lots of reasons - I myself was a Girl Scout, but a lot of same morals. The biggest thing I do - is I never leave the house un-prepared for whereever I am going. Secondly, if I am on time to something - I am late.
My Most Memorable Scouting Moment:
The Scouting for Food program - which we are also doing again right now! Last year, my son and I canvassed the neighborhood with the bags/flyers to pick up a week later. He was a Tiger then, and wasn't sure exactly what he was doing. I was nervous if folks would even pay attention to the flyer. A week later we went out, and collected food from 25 neighbors, whom left the bags outside. He was so happy and proud when he dropped the food off, and I showed him one of the shelters that the food was going to - he was just so so proud. We are canvassing again tomorrow, and collecting next week. I love that he is doing his part to help out and that he likes doing it.