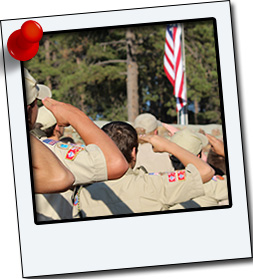 I Got Involved in Scouting Because:
Because I wanted to be just like my big brother, because he had so much fun going on campouts and I wasn't allowed to be at his side because I was too young. I finally became old enough to go with him, and we did everything together.
Scouting Prepared Me For Life By:
I was able to learn personal management, which is keeping a budget, which was something that I had no idea how to do. Now, I am able to budget my money to go as far as possible instead of spending it all on candy bars.
My Most Memorable Scouting Moment:
I was staffing at the National Youth Leadership Training course that is provided at Tahosa High Adventure Base. I was a Troop Guide for the Red Patrol, and at the end of the course, each patrol is required to create a skit using everything they learned over the week. My patrol decided that they would take the storyline of the Monty Python and the Holy Grail movie, and incorporate all of the leadership acronyms they learned, including but not limited to, EAR, EDGE, ROPE, and SMART goals. I was a very proud guide that they won the competition for the best skit, and am very glad to tell this story to every aspiring leader in my troop!