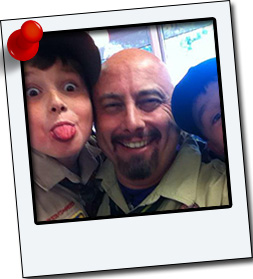 I Got Involved in Scouting Because:
When I was a kid, after my father died, I joined Cub Scouts. But the unit failed, and I never was even awarded my Bobcat badge. After my sons were born, I swore that that would never happen to them. Today I am a Cubmaster, Roundtable Staff member, and Wood Badger.
Scouting Prepared Me For Life By:
Scouting ideals filled a void that an 8 year old boy without a father truly needed. Even when people fell short, the values endured.
My Most Memorable Scouting Moment:
Really two of them. When my Wood Badge class awarded my my "Bobcat" - and when my oldest son finished his Arrow of Light this month.