Peaceful Valley Scout Ranch
Three Different Slices Of Paradise!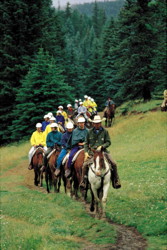 Three great camps make up Peaceful Valley Scout Ranch, which is located at 7,000 feet in elevation near the town of Elbert, CO.
Camp Cris Dobbins offers a traditional dining hall camping experience with Scouts enjoying high quality meals in the William R. Kephart Dining Hall while work on their choice of over 50 merit badges and participating in programs designed around the weekly theme.
Camp Cortlandt Dietler provides a "hardcore" style of camping, filling the with camp with bold and exciting character. Scouts will pitch their own tents, cook food as a patrol and learn how to work as a team to make their week successful. Not sure your troop has enough experience for something like this? Don't worry; our staff is here to help! All activities are done under the watchful eye of our trained staff, who will be on hand all week to assist you and your Scouts.
Magness Adventure Camp is the resident Cub Scout camp, introducing young boys to the adventure of Scouting in the outdoors. Scouts and their families will spend their days hiking through Ponderosa Pines in the Black Forest, canoeing and fishing on the lake, and shooting BB guns.
Panning Pete's Super Troop is provisional troop that provides Scouts unable to attend summer camp with their own troop or Scouts who want to attend an additional week an opportunity to not miss out on the fun. This unique program groups Scouts from many different troops into a single patrol, thus offering them a similar experience as Scouts who attend summer camp with their traditional troop.
Other Information
Cris Dobbins and Cortlandt Dietler are for registered Boy Scouts and Varsity Scouts who are 11-17 years old and their adult leaders. Magness Adventure Camp is for registered Cub Scouts who are 6-10 years old, their parents, and their siblings.
All camp participants, including adults, must have a medical exam prior to attending camp and present a completed National BSA Health Form and Colorado Supplement upon arrival at camp. Download these forms in English and Spanish.
Fees and Dates vary for each program. Please review information thoroughly before registering.