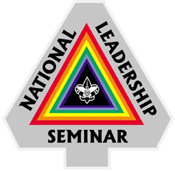 The National Leadership Seminar (NLS) is a weekend training program focusing on leadership development. Run by the Region Chief and his Advisers, it provides an in-depth look at leadership skills and techniques. NLS discusses how these skills can be applied in your role in the OA and in other aspects of your life.

The National Lodge Adviser Training Seminar (NLATS) is a weekend conference focusing on the skills and attributes of effective lodge advisers. It is intended primarily to enhance an adviser's knowledge of and connectivity with the OA's strategic plan, program and resources, while emphasizing personal skills that are essential to the development of effective youth leadership and ultimately the OA's service to the council.
Both courses have limited enrollment
Tahosa Lodge offers a 50% scholarship to attend either session so cost is $87.50 rather than the listed $175. Sign up today!
We will coordinate a carpool for those interested.