Special Needs (Champions)
Learning for Life offers a program for Special Needs students called the Champions™ Program. The Champions™ Special Education program is organized into two major Components:
The Champions™ Daily Living Skills includes 57 lesson plans centered on a skill-oriented theme, with activities designed for class or individual use. Areas covered include:
Self-concept – students develop an awareness of personal, social, and civic awareness
Personal & Social skills – focus on how emotions affect the behavior of oneself and others
Life Skills – teaches skills for independent living, including personal hygiene, meal preparation, and job preparedness training
Recognition Plan – An honor chart displays each students achievements, so that all students are receiving some kind of recognition
The "Champions™ Daily Living Skills" program content covers the following areas:
Safety
Calendar
Self-concept
Parts of the Body
Grooming
Clothing Care
Dressing
Human Growth & Development
Nutrition
Wellness
Table Manners
Meal Preparation
Outdoor Activities
The Fishing Derby and Adventure Day are two field trips offered each year to our Learning for Life school partners. These events are held at Cherry Creek State Park where we serve close to 350 students and 100 teachers and parents. We have experience serving a wide range of youth including high-functioning students to those with severe disabilities.
Teachers and students have the opportunity to rotate in groups to various activity stations including pontoon boat rides, fishing, rock climbing, games, crafts, face painting, presentations from the Reptile Man and Science Wizard, and more! These are great opportunities for students, teachers, and volunteers alike!
An article on Fishing Derby was covered in the Denver Post.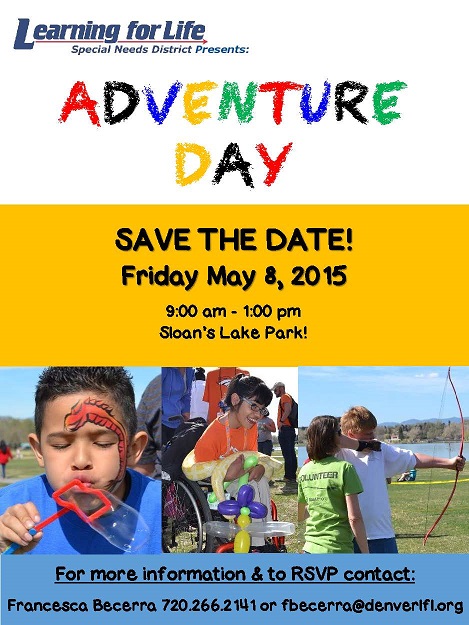 Adventure Day 2015 is proudly sponsored by: